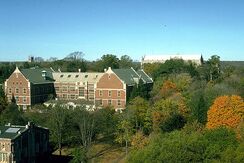 The main hub of activity in Angels & Asses, PPTH is both a safe heaven for the weary and sick and a center of supernatural energies.
General Traits
Edit
Doctor Lisa Cuddy is the Hospital's Dean of Medicine, and head administrator. The hospital is overseen by the Board. Its members include numerous department heads, along with people who have donated to the hospital, or have a hand in the running of it. The hospital includes a free clinic where members of the public can come for free treatment. All doctors employed at the hospital must serve in the clinic for a certain amount of hours every week (to House's chagrin).

The Departments are:
Oncology - Headed by Dr. Wilson
Diagnostics - Headed by Dr. House
ER - Headed by Dr. Cameron, vacant
Surgery - Headed by Dr. Chase
Neurology
Pediatrics
Cardiology
Nephrology
The hospital itself has seven floors, including a basement and a roof level:
Basement
Radiology (Diagnostic Imaging): MRI & CT Scan
Records Office (also contains a makeshift library of the supernatural)
Morgue (with a body elevator connecting it to Operating Room #3)
Sleep Lab
Forensic Medicin/Pathology Labs
First Floor
Main Lobby
Cafeteria
Chapel
Clinic
Pharmacy
Cuddy's Office (has a private office on the 6th floor)
Urgent/Priority Care
Lecture Halls
Conference Room
Second Floor
Pediatrics
Ultrasound
Pulmonary Laboratory
OB/GYN
Nursery*
Patient Rooms
Administration
Intensive Care Unit
Surgery
Third Floor
Psych Ward (East Wing)
Patient Rooms
Senior Services
Same Day Admission Unit
Maternity Ward*
House's Office and Conference Room
Wilson's Office
Fourth Floor
Nephrology
Anesthesia Office
Cardiology
Fifth Floor/Sixth Floor (Private Offices)
Seventh Floor/Roof
(Wards marked with * are protected by seals and sigils to avoid the change to the Fog and Otherworld)
Ad blocker interference detected!
Wikia is a free-to-use site that makes money from advertising. We have a modified experience for viewers using ad blockers

Wikia is not accessible if you've made further modifications. Remove the custom ad blocker rule(s) and the page will load as expected.